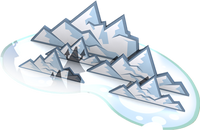 Ice Hill is the third scene in Haypi Dragon. This scene is longer than the previous two, and more difficult. Players should be sure to have the highest level stones they can find embedded onto their dragons, and upgrade skills regularly.
Ice Hill consists of 30 stages, for a total of 90 stars.
Frigid Barrier 3-30
Vine Summoner x2

Crystal
Ad blocker interference detected!
Wikia is a free-to-use site that makes money from advertising. We have a modified experience for viewers using ad blockers

Wikia is not accessible if you've made further modifications. Remove the custom ad blocker rule(s) and the page will load as expected.